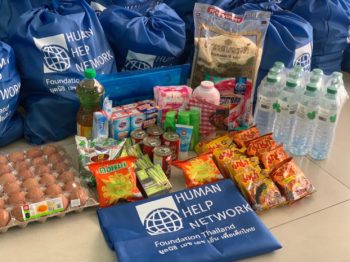 On January 12th, Mobile Training Unit (MTU) paid a visit to its migrant children and families to distribute 60 sets of "HHN Care Bag".
According to the state of emergency announcement by Thai government, ASEAN Education Center has to temporarily suspend its operation, which results in migrant children trapped in the campsites and not being able to receive proper food, care and education.
As a result, HHNFT decide to produce "HHN Care Bag" consisting of various necessary items and distribute to these children and families on behalf of Equitable Education Fund (EEF) and generous benefactors.
Additionally, the team also provided children with "HHN Learning Kit" to ensure that children can keep educated and occupied during the lock down.
Human Help Network Foundation Thailand would like to express its utmost gratitude to EEF and all benefactors for making this possible.
May God bless you.
WE HELP CHILDREN.
***Each HHN Care Bag consists of***
Personal effects
– 3 DIY face masks
– 1 bottle of alcohol gel
– 1 set of tooth brush, tooth paste, soap and baby powder
– 1 set of stationery Food & beverages
– 10 instant noodles
– 5 canned fish
– 1 bag of rice
– 1 bottle of cooking oil
– 1 pack of UHT milk
– 30 fresh chicken eggs
– 12 bottled water
You can support this project via
the account Account name: Human Help Network Foundation Thailand
Bank: Krungthai BankAccount
No: 591-0-041533
Swift Code: KRTHTHBK